I.T. Managed Services Supremesoft recognizes that efficient and effective business operations are crucial to a company's success. Our approach to IT Managed Services recognizes you as a priority; let us support your company with the early detection and elimination of problems that can disrupt your business operations.
Our services includes:

System Administration


On-Site and Remote Technical
Support


Network Consulting and
Management


Remote Monitoring


Security


Internet Services


Database Management


Regular Preventative
Maintenance


Mobile Device Management


Custom Software
Development

>> read more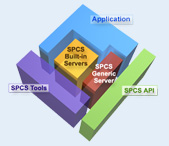 The Supremesoft Process Control System (SPCS) is an application framework for distributed online applications specifically designed for factory automation. SPCS is a fully-supported application which is extremely robust and efficient. With an open architecture design, SPCS is totally platform and database independent. By positioning the SPCS as middleware between your existing Administration Systems and Manufacturing Hardware, SPCS can provide 'Just in Time' information to the management for decision making.
>> read more
We provide full Internet services through our sister company, Vastcom Network Inc. Vastcom is a Registered Web Presence Provider for Microsoft FrontPage 2002 and SharePoint Team Service. Vastcom Offers an extensive range of Internet services and eBusiness solutions, including development and hosting of web site, database, application, portal, and email. We also
provide network consulting services such as VPN, firewall and remote access.



>> read more